Watch the MIDAS Ireland Annual Conference recorded on November 18th
"Digital Transformation enabling a sustainable world"
The MIDAS Ireland Annual conference took place on Thursday November 18th – A full recording is available below
Ask a Question
How To Ask A Question – Join us on Slido!
To ask a question – simply type your question or comment in the Slido box above and it will be picked up by a member of the team. All questions and comments are welcome, and we'll try and get to as many as we can * time permitting. Or join us on Slido using code MIDAS
AGENDA
The theme for this year's conference was "Digital Transformation enabling a sustainable world"
Schedule
9:15am
Leonard Hobbs General Manager's Welcome and Address
09:45am
Guest Speaker on Climate Dr. Cara Augustenborg "Building a Better World: Focus on Sustainability"
10:30am
Sudarshan Iyengar, Vice President, Ireland Development Centre, Microchip " Intelligent electronics for good"
11.00am
Dr. Giorgos Fagas, Head of EU Programmes, Tyndall National Institute, Introducing Ascent+ Member Opportunities in Europe's leading technology providers
11.30am
Coffee Break
12:00pm
Dr. Ruoyi Zhou, Director of IBM Research "Quantum Computing: Cutting Through The Hype!"
12.30pm
Colette Maloney, Head of Unit, Microelectronics and Photonics, DG Connect, EU Commission "European microelectronics rebuilding back better"
1.00pm
Lunch Break
2:00pm
Professor Lorraine Leeson, Professor in Deaf Studies at TCD, "Sign of the Times Technology and Sign Language"
3:00pm
John Rayfield, VP & GM VPU IP at Intel "Low power is everything in AI"
3.30pm
Professor JP Colinge –"Silicon Integration: Beyond Scaling"
4:00pm
Coffee Break
4:30pm
Panel discussion. "Women in Tech, a roadmap for Microelectronics",
chaired by Siobhan Dolan Clancy,
with Prof Orla Feely, VP Research, Innovation and Impact, UCD,
Brendan Farley, Vice President Wireless Engineering, Managing Director EMEA at Xilinx,
Jennifer Hoffman Senior Director, People & Culture, Integration Management at Analog Devices and
Neil Philip, Factory Manager at Intel Ireland.
5:00pm
Closing Remarks
* All times listed are GMT / Local Irish Time and are subject to slight change.
Speakers Included: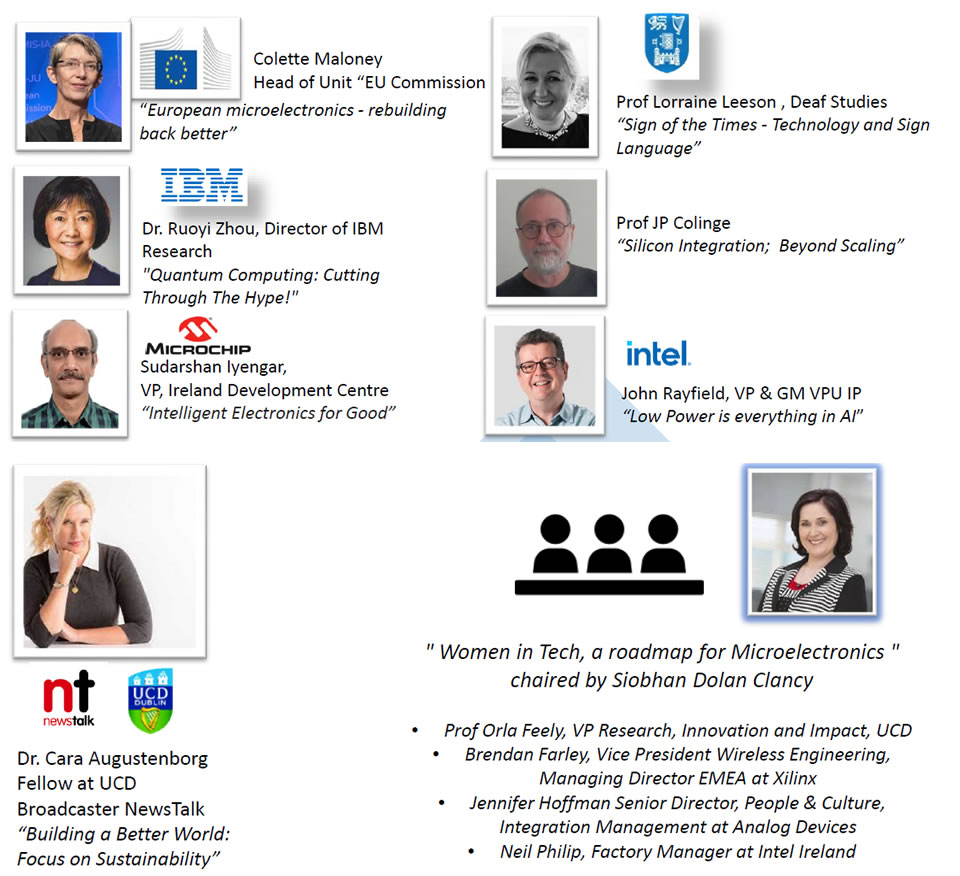 MIDAS Skillnet 2021-2022 Training
To find out more about the MIDAS Electronic Systems Skillnet please visit https://www.midasireland.ie
Please email Gerry.Byrne@midasireland.ie for details of the 2021/22 courses or to book same – Thank you
Thanks to our sponsors…
---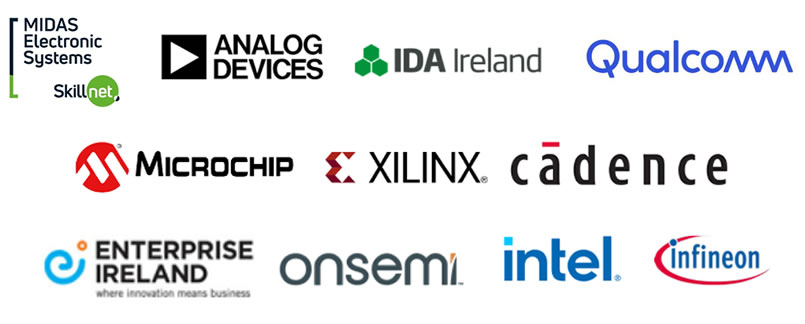 About MIDAS Ireland
MIDAS Ireland (MIDASIreland.ie) is an industry led cluster consisting of industry, educational, research and government agencies, represents the interests of the electronics based systems sector in Ireland. We have over 60 members including multinational companies such as Intel, Xilinx and Analog Devices, along with indigenous companies and lreland's leading research universities.
MIDAS is a key enabler of networking and collaborative opportunities within our industry and represents the needs of the sector to government. It supports the upskilling of graduate and professional engineers to meet the ever changing needs of this 'deep tech' sector.
Need help?
Please feel free to contact our live stream team via support@switchnewmedia.com
All presentations are being recorded and will be made available on the this page after the event – thanks for tuning in!
---